Making it all the way to the physical dealership can be time-consuming a non-conducive to your work schedule. Here at Licardi Mitsubishi, we've made things much easier with our Accelerate My Deal retailing tool that you can use from the comfort of your own home on our website. Learn about the simple steps that make your next big purchase much easier.
Shop New
Shop Used
1. Pick Your Vehicle
Flip through the wide selection of cars and SUVs available in our new and used inventory to find your dream model. Larger families will love options like the Mitsubishi Outlander, while sedan lovers will relish in sporty models like the Mitsubishi Mirage.

2. Choose Your Monthly Payment
Browse loan and lease options easily to plan for your future financially. Pick your terms, estimate your credit score, and check for specials to give you the most accurate number possible. This is one of the most helpful tools included in Accelerate My Deal.
Finance Center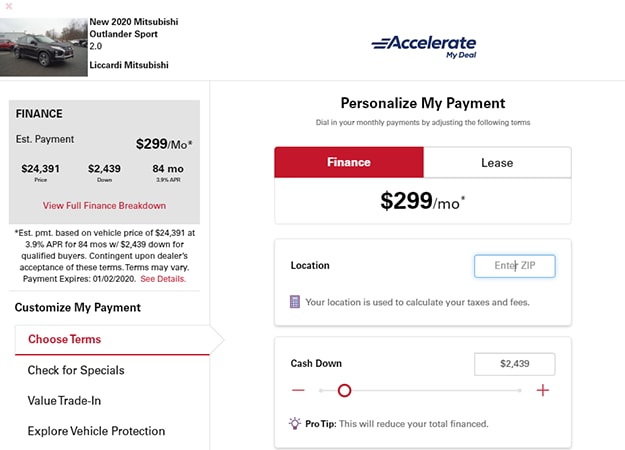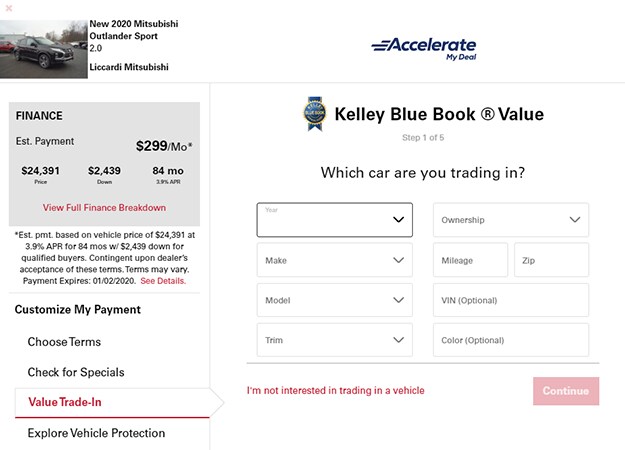 3. Value Your Trade-In
We use the trusted third-party, Kelley Blue Book®, to give you the most accurate appraisal of your current vehicle as possible. If you're not planning to trade in a current vehicle for a new one from our inventory, you can skip this step.
4. Apply For Financing
In just a few minutes, you can finish the financing process by applying for your loan or lease and get an answer almost immediately. This drastically cuts down on the time you'll spend in the dealership.
Finance Application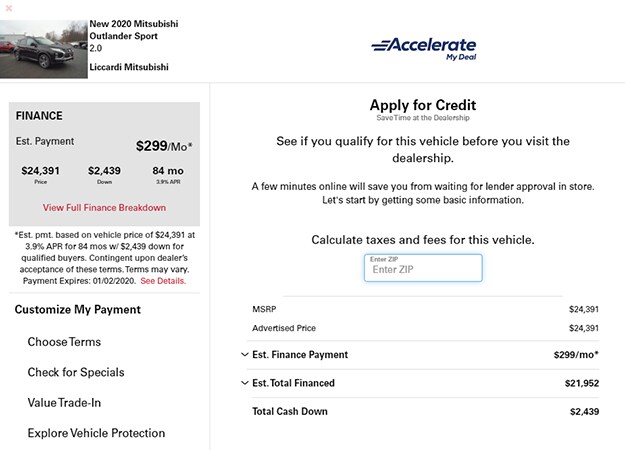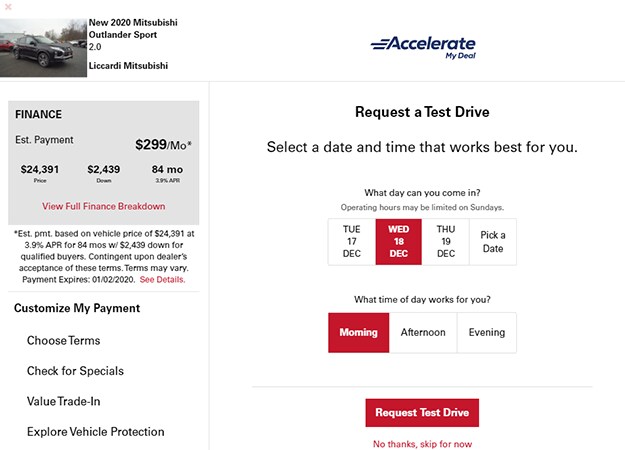 5. Schedule an Appointment in Person
Once you've finished making decisions, it's time to come in to finalize your process in the physical dealership. Simply fill out our contact form to choose a time and day that works best with your schedule. We're looking forward to welcoming you to Licardi Mitsubishi.
Contact Us